Jeremy Lusk
Jeremy Lusk - A Person with Hope
Jeremy Lusk, a Freestyle motocross star, died on February 10, 2009 as a result of head injuries sustained in a crash during a competition in Costa Rica. Lusk won gold and silver medals at the 2008 X Games and a bronze helmet in the 2008 Moto X World Championships. He was part of the riding group Metal Mulisha.
Brian Deegan, founder of Metal Mulisha and good friend, issued this statement:
"Jeremy motivated me to be a better person, he was my best friend. The bond of this team is one that will never be broken. We know Jeremy is looking down from a great place, continuing to move mountains and touch the lives of those above. One day, we will all be reunited and will ride together again. In the end, all dust turns to ash. Metal Mulisha will continue to live and die by that creed. Jeremy, we can't wait to see you."
The following videos present Brian Deegan and Ronnie Faisst who are freestyle motocross riders. They posted this video as a response to numerous questions directed at them regarding their faith in connection with Jeremy Lusk's death.
Part 1
Part 2

Explore This Video and Go Deeper Now!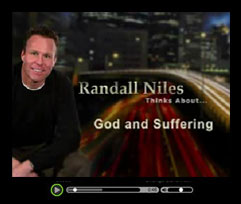 Read the article on Dealing with Death Now!
WHAT DO YOU THINK?

- We have all
sinned
and deserve God's judgment.
God
, the Father, sent His only Son to satisfy that judgment for those who believe in Him.
Jesus
, the creator and eternal Son of God, who lived a sinless life, loves us so much that He
died
for our sins, taking the punishment that we deserve, was
buried
, and
rose from the dead
according to the
Bible
. If you truly believe and trust this in your heart, receiving Jesus alone as your
Savior
, declaring, "
Jesus is Lord
," you will be saved from
judgment
and spend eternity with God in heaven.
What is your response?
Yes, today I am deciding to follow Jesus
Yes, I am already a follower of Jesus
I still have questions